Trips
River trips occur every Sunday throughout the year. We normally alternate between beginner and intermediate level trips, though this is subject to change. Our weekly emails will advise on the level of upcoming trips.
We also hold a number of weekend of muli-day trips throughout the year. Trips for 2018 include
January/February - Lakes Weekend
April - Scotland Advanced Trip
May - Tryweryn Weekend
June - Alps Holiday
August - Tryweryn or Surfing Weekend
September - Beginners Wharfe Weekend
October - Goat Inn Wales Weekend
November - Advanced Weekend Trip
Sessions
Pool Sessions
Pool sessions are held at 20:00 on a Wednesday evening at the Armley Sports Centre. The sessions are for 1 hour and this is an ideal opportunity to learn canoeing for the first time, or if you are already a paddler come along and practice those strokes. The water is warm and the instructors are on hand and are pleased to help with the techniques of canoeing. If you are a new beginner, then please read the information on the How to Join page before coming down to the pool so we can book you in for our Introductory Lessons
The cost of the pool sessions are:
Introductory Lessons:
(These must be booked in advance. See our How to Join page for details)
Adult £10
Junior: £8

Beginners/Guests:
Adult £7.00
Junior £5.00
Members Rates:
Adult Member £5.00
Junior Members £4.00
The centre is situated at the following address:
Armley Sports & Leisure Centre
Carr Crofts
Leeds
LS12 3HB
Click here for more information about the leisure centre
Tuesday and Thursday Evening River Sessions
Click here for clubhouse location details
On Tuesday and Thursday nights throughout the summer we make use of our facilities at Kirkstall.
Tuesday nights are generally a "free" session with members able to practice what they like. Usually this will mean most people are down at the weir on the moving water. If you are a beginner, then you will be expected to go down to the weir with the instructors, unless one agrees to stay outside the boathouse with you on the flat water. Informal coaching will be given on moving water by the instructors who are present. No formal coaching will take place on a Tuesday night.
Thursday evenings are our formal coaching evenings where the star test syllabi will be taught. This will include BCU 1-3 star flat water awards, and also an introduction to moving water down at the weir.
Polo and slalom training sessions are also sometimes held at the river. The Club has a larger selection of boats and equipment which can be used during the Tuesday/Thursday night sessions.
These sessions are primarily aimed at people wishing to progress onto river trips and weekends away. Please note that there is no charge for the river sessions, however you must be a paid up member to come on the river for insurance reasons.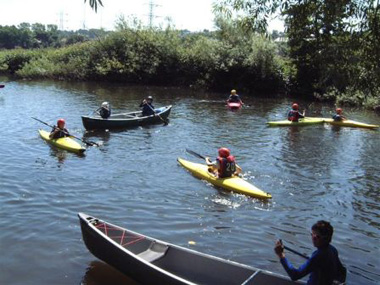 © Leeds Canoe Club 2023